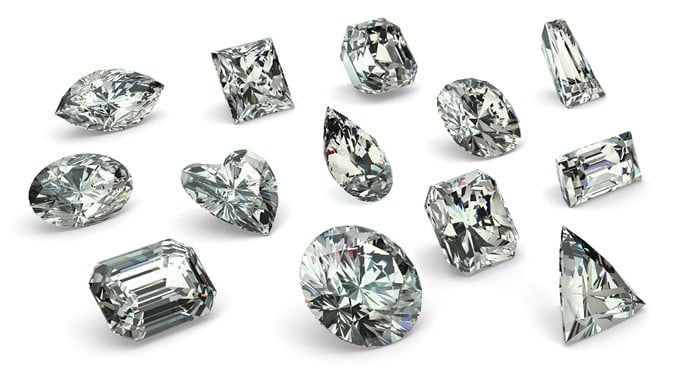 A dazzling diamond begins far before you admire it in the jewelry store. The cut, or shape, of the stone brings it to life with sparkling facets of fire, and distinctive visual appeal.
It pays soon-to-be diamond buyers to educate themselves on the basics of a diamond's cut. This knowledge helps not only in choosing the shape of the diamond, but also assists in setting a budget and determining the size of the stone you want. There are three important elements that add into a diamond's shape.
Table: this is the top, flat part of the diamond. A larger table looks like it's bigger, but are more shallow and may create less fire.
Depth: when the diamond is measured from top to the bottom point, that is the depth. A deeper diamond will have less of a table, and look smaller.
Facets: these polished areas are found on the sides of a stone, reflecting the light to create some of the stone's sparkle.
Buyers are often concerned primarily with carat weight, but the cut of the stone determines the style of the entire ring, and should be given proper attention and thought. Depending on the cut, diamonds are romantic, sophisticated, luxurious, or lavish. There are several cuts of diamonds, and all have their unique benefits. Before you pick your love's next diamond, give thought to which of these eleven shapes fit her style and personality.
#1: Round Cut
Diamonds cut in the round shape are the most popular for the center stone choice in engagement rings, with good reason. A round cut offers more brilliance with the facets than any other, fancier cut. Round diamonds are classically beautiful and offer traditional sophistication by themselves, and can be nicely complimented with side stones or halo settings.
Choose this cut because: The brilliance of a round cut is unmatched, and this shape offers classic and timeless styling. It's also versatile and can be part of a demure or bold look, depending on the setting and side stones.
Famous people who wear them: Singer Britney Spears, actress Natalie Portman, and first lady Michelle Obama wear this classic style.
#2: Oval Cut
Oval cut diamonds are a lovely, elegant choice. A slight variation of the round, an oval stone is elongated on two-sides. This is a fantastic stone for a lady who likes a somewhat tradition look, but craves an engagement ring with a bit less traditional than the round stone. The oval cut still possesses many facets, so the wearer can enjoy the brilliant sparkle. Another key benefit of oval stones is the elongated shape makes them appear larger than round stones, offering more "look" for the money.
Choose this cut because: Oval cut diamonds are for women who desire a unique engagement ring without sacrificing sparkle. Additional, oval diamonds tend to make the fingers look longer, so they are popular choices for women with short fingers.
Famous people who wear them: Oval cut diamond engagement rings grace the hands of actresses Blake Lively and Selma Hayek,
#3: Pear Cut
The pear shaped diamond is an exquisite cut that's rounded on one end and meets in a point on the other, similar to the silhouette of the fruit it's names after. Engagement rings with pear shaped stones give the wearer a uniquely updated experience of luxury and grace. As with the oval stone, a pear shaped diamond is nicely flattering on short or small fingers.
Choose this cut because: Diamonds cut in the pear shape bestow a great deal of dazzle, and look fantastic as the sole stone, or with side diamonds. A woman with short fingers may choose this cut of diamond to make her fingers look longer. Luxury and dazzle own the day with a pear-shaped diamond engagement ring.
Famous people who wear them: Fashion designer Victoria Beckham, actress Katherine Heigl, and rocker Avril Lavigne all sport pear-shaped engagement rings.
#4: Marquise Cut
This stone is cut in a diamond shape, and is one of the most popular fancy cut stones available. The cut enhances the size of the stone, making it look larger than it actually is. A premium marquise cut stone will showcase matching and aligned top and bottom and left and right points. When the points don't achieve alignment, the diamond may look lop-sided in the setting. The marquise cut is visually pleasing with a touch of sophistication and plenty of allure.
Choose this cut because: Marquise cut diamonds provide a larger looking stone for the money, so it is perfect for a couple who want to maximize their budget. As with the oval or pear shape, the shape of a marquise diamond elongates the look of the wearer's finger.
Famous people who wear them: Actress Catherine Zeta-Jones and actress Portia de Rossi both love and enjoy their marquise cut diamond engagement rings.
#5: Emerald Cut
This shape got its name because it was created to showcase the deep green of the gorgeous emerald stone. Over the years, the emerald cut was adopted for diamonds. This cut is elegant and timeless, basically a rectangular shape. A high quality diamond is required to make a lovely emerald cut stone, because this shape has less sparkle and brilliance than the more traditionally faceted round cut stone. This cut offers an abundance of glamor and lush elegance to any piece of jewelry fortunate enough to be graced with it.
Choose this cut because: This cut is one of the most elegant cuts available, and should be the choice of a discriminating jewelry lover. Because of the extra expense involved with a higher quality diamond, this cut is not for the budget conscious buyer.
Famous people who wear them: If you choose an emerald cut diamond, you are in good company. Ashton Kutcher presented Mila Kunis with a 5-carat emerald cut diamond ring when he proposed. Emerald cut engagement rings also won the hands of Beyonce, Kate Hudson, and Mariah Carey.
#6: Princess Cut
A diamond cut in a princess shape is four-sided, and offers sparkle and fire second to none, even comparing to the round cut. During the diamond cutting process, the princess cut produces less waste, so it's a bit more economical than other types of stones.
Choose this cut because: a couple of factors make this shape a popular choice. It's economical, so the buyer gets more diamond for the money. The shape is flexible, creating both elegant, understated looks, or bold, dramatic looks.
Famous people who wear them: Rod Stewart chose a princess cut diamond for his fiancee, model Penny Lancaster, and co-anchor Lara Spencer also sports a princess cut engagement ring.
#7: Trillion Cut
The three-sided diamond cut known as "trillion" is frequently used in engagement rings as side stones. However, this stone can also present a thrilling ring as the main solitaire. Create a ring uniquely your own with a sparkling one-of-a-kind trillion cut.
Choose this cut because: a woman who loves making a bold statement and being on the cutting edge of trends and fashion would rock a dramatic trillion cut diamond ring.
#8: Heart shaped
Nothing says romance like a heart shaped diamond, which is why this cut is a winner for an engagement ring. If a couple wants to share their commitment to each other with this cut, they must make sure the stone is symmetrical. Each side should be a mirror of the other in order to look visually pleasing in the mounting. Also, they need to choose a larger stone. Small stones are a bit difficult to recognize as heart-shaped, since the shape is more intricate that other cuts. A carat or more ensures this cut is the astoundingly beautiful statement it's meant to be.
Choose this cut because: Romance, Baby! A heart shaped diamond is a beautiful sentiment of the giving of each other's hearts with love.over to a committed relationship. Heart shaped engagement rings are especially touching coupled with a Valentine's Day wedding.
Famous people who wear them: Singers Lady Gaga and Nikki Minaj were wooed by heart shaped diamond engagement rings.
#9: Asscher Cut
Getting its name from the famous diamond cutters the Asscher Brothers, this cut was fantastically popular the first part of the 20th century, and has enjoyed a surge in popularity in the last decade because of modifications to the cutting process that resulted in greater brilliance. Looking at the four sided stone from the table, you will see square cuts throughout the depth of the stone. A hint of vintage charm with modern day sparkle, this cut is a stunning blend of time.
Choose this cut because: the asscher cut is perfect for a modern woman who still appreciates a timeless style.
Famous people who wear them: Asscher cut diamonds grace the hands of actresses Gwyneth Paltrow and Jessica Alba.
#10: Cushion cut
This enchanting four-sided stone brings elements of class and charm in a quietly sophisticated cut. Their facets return light in a larger area, bringing less sparkle than round stones, for example, but cushion cuts make up for it with increased fire.
Choose this cut because: Cushion cut diamonds are exquisitely fiery and unerringly sophisticated and alluring. A lady who loves to be pampered and adored will love this diamond shape.
Famous people who wear them: Business woman Ivanka Trump, actress Jennifer Garner, and Kaley Cuoco each look fabulously flawless with their cushion cut rings.
#11: Radiant
If cushion cut and princess cut diamonds got married, their offspring could be a radiant cut stone. Softly rounded like a cushion cut, but faceted like a princess cut, the four-sided radiant cut diamond is a treasure in luxury and brilliant sparkle.
Choose this cut because: the radiant cut diamond is a beautiful solitaire ring, and also opulently dazzling with side stones. A woman who is classy and confident would choose a radiant cut diamond engagement ring.
Famous people who wear them: Feisty actresses Drew Barrymore and Hilary Duff look 'radiant' in their radiant cut diamonds.
There are many shapes of diamonds, and choosing can be overwhelming. That's why it's critical to walk the diamond buying journey with an experienced professional jeweler who can answer questions and assist you in finding the perfect ring. Visit Janvier Jewelers today and consult with one of our experienced jewelry associates. We will take the stress off your diamond buying experience, and make certain you end up with a stunning engagement ring that will be treasured for decades to come.
Can't make it into the store today? Call us at (302) 366-7448 or fill out our online contact form