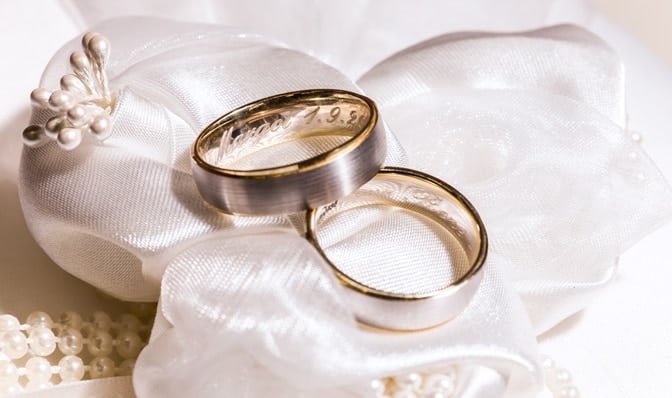 Deciding who and when to tie the knot are big decisions, and laying out the cash for the wedding rings is a major commitment. After you choose the ones that fit you and your love, think about the next step.
Engraving your rings
An engraved wedding or engagement ring is extra special, and holds the nature of the relationship close to you, but away from others. After all, it's inside the ring, touching your skin.
But what type should you choose?
There are a variety of roads to travel to reach the perfectly engraved phrase on your wedding rings. Let's explore some of them.
Names
A timelessly classic wedding ring engraving idea is the couple's names joined together in beautiful script. Deciding to add names to the inside of the wedding bands is a romantic and personal option that is simple but never goes out of style.
Dates
The date of the wedding, meeting, or engagement are also fantastic ideas. How better to commemorate the momentous occasion than with a lovely engraving of the wedding date. Plus, this way, the groom never has the excuse of "I forgot" on your anniversary!
Romantic words
A touching phrase of romantic words is a beautiful addition to a wedding ring. Engraving words like "Always and Forever" or "Meant to be" will charm both parties for the rest of their lives.
Different words from a cohesive phrase
There is no hard and fast rule that the inscriptions must be the same, and some couples opt for different phrases in each ring that, together, combine to make one complete phrase. Choosing this type of engraving symbolizes how two halves can become a whole in love. Examples of such engraving is the lady's ring saying "I love you" and the man's ring saying "I love you more."
One word
While phrases are descriptive and charming, one simple word can also evoke emotions and may be the perfect choice. "Love," "eternity," and "forever" are all powerful and romantic words to choose as engraving options.
A humorous inscription
Nothing holds you to the inscription being serious. You can do a lighter, more romantically offbeat engraving. Two late forties loves who had neither been married chose "Never say never" for their inscription, while a couple who met when she spilled coffee on him chose her engraving as "watch the coffee" and his to say "I have a towel."
A promise
A vow is just as romantic as a declaration of love for an engraving idea. Examples are "forever in my heart" and "I will love you from now til…" Such a statement is powerfully romantic and uniquely lovely.
The importance of engraving is to make your rings are personally unique to you as a couple. Give some thought, and you are certain to arrive at the perfect inscription for both of you.
Visit Janvier Jewelers today or call 302-366-7448 and speak with one of our highly trained Jewelry Associates who can assist you with your fine jewelry and engraving needs. We have been assisting happy couples since 1975.