When we think of diamonds (which is all the time!), we envision a sparkling stone that is colorless or nearly so. While nothing takes away from the dazzling, seductive allure of a beautiful diamond, this is not the diamond's full story.
Diamonds form in all colors of the spectrum, and create radiantly stunning jewelry. From charming pastels to bold statements of splash, a colored diamond, also known as a "fancy diamond," fits the bill. If you wish for a beautiful diamond, and are intrigued with the thought of your stone having a hue, read on as we discuss nine delightful colors of diamonds.
Canary
The second most common of the colored diamonds, the canary diamond is a yellow tinted stone. Canary diamonds range in color from barely a tint of yellow to vividly intense color. This captivating fancy diamond is a super stylish choice when set in yellow gold, and looks fabulous on various skin tones.
Pink
A pink diamond color is romantic and charming. From the lightest pale to the most vibrant pink, these stones add an element of whimsy and style to any piece of jewelry. Pink diamonds look great set in platinum, yellow gold, or rose gold, which makes them a versatile choice.
Blue
Beautiful azure tones are created from boron settling in the stone. One of the rarest of the fancy diamond colors, blue diamonds are stunning, and show a smaller range of color than other fancy diamonds. Their rarity causes them to be very pricey, so they are typically in high end, sophisticated pieces of fine jewelry.
Red
Another diamond color rarely found in nature, the red stone is luxurious and, even above the blue diamond, extravagantly priced. According to Cape Town Museum, "red diamonds are so rare that only around twenty to thirty true red diamonds are known to exist and most are less than half a carat in size." For the select few, these diamonds are treasured heirlooms.
Orange
Like purple stones, orange stones are remarkably rare and usually present with a secondary color. Pinks, yellows, and browns each show up in many orange stones. These stones are dramatically expensive, increasing exponentially in cost with the increase in carat weight. Divinely rich and deep, the orange diamond remains much of a mystery, as the exact process involved in creating an orange diamond is still being studied. An orange stone sparkles magnificently on darker skin, and looks perfect in a yellow gold setting.
Champagne
They may not be bubbly like the drink, but champagne colored diamonds are sparkly and fabulous anyway. They range in color from light beige to a darker tawny hue, and denote timeless grace. Champagne diamonds are beautiful in any cut, in any color of mounting, and are easier on the budget than other fancy diamonds.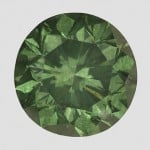 Green
Often light in color, green diamonds are exotic and exquisitely lovely. Even light colored green diamonds are extremely rare, because conditions must be perfect for them to form. The diamond must be located near radioactive rocks, so that radiation replaces a portion of the normal carbon composition during formation.
Brown
Brown diamonds are the most plentiful of the fancy colored diamonds and create a lovely piece of jewelry, whether as the main stone or accent stones.
Stones are a rich brown, or cognac color. Many exhibit alluring sparkles of other colors, such as green or purple. Usually priced as a mid-range option, brown diamonds are unique and bold while also offering richness and glamor to any design.
Black
It doesn't seem possible, but some diamonds are actually black. These deeply colored stones are bold and unique, and offer class and elegance to any piece of jewelry, as the main stone or accent stones. The cut of a black diamond is important, because the interior of this diamond doesn't sparkle like other colors, as black absorbs light. Facets are vital in creating a shimmering black diamond. Less expensive than some other diamond colors, but still intriguing in a distinctive way, the black diamond is an exemplary choice.
A couple more fancy colored diamond facts:
They aren't graded by the D-Z diamond system. Colored diamond grades are fancy light, fancy, fancy intense, and vivid, with vivid being the most expensive.
Budget conscious buyers can still enjoy fancy diamonds by selecting a color treated stone. These are available at many reputable fine jewelry stores.
Fancy diamonds are gorgeous, modern, and glamorous, and captivate your attention in the setting of your choice. Whether light or vivid, small or large, there is a diamond color that fits your style. Perhaps even more than one!
No matter which diamond color strikes your fancy or what your budget looks like, you are certain to find the perfect diamond at Janvier Jewelers. Call us at (302) 366-7448 or visit our fine jewelry store today and confer with one of our professional and highly experienced jewelry associates to select the diamond of your dreams.