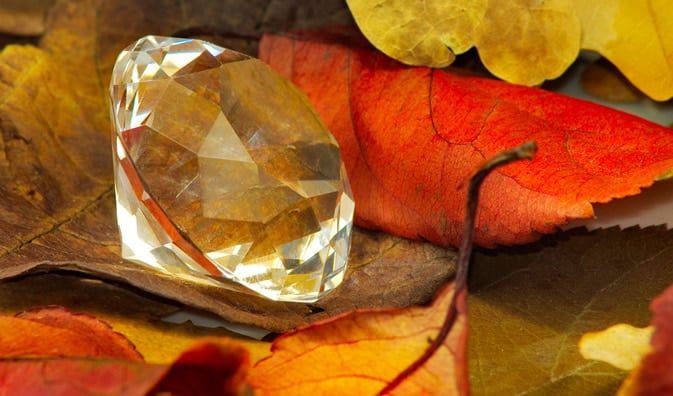 As the days grow shorter and the temperatures fall, we shed our cute tanks, light sun dresses, and cool shorts for snuggly sweaters, leather boots, and warm, tailored pants. While shopping for the new fashion trends this fall, be sure to swing by your favorite jewelry store and invest in some brilliantly crafted pieces that will add sparkle and style to your cold weather wardrobe.
Not sure what to choose? Here are eight of this year's hottest fall jewelry trends. Decide on one, or many, to fit your unique style.
Multi-metals
Don't feel like you need to limit your selection to either white or gold tones, when you can enjoy both! This fall, many pieces of fine jewelry merge the coolness of white with the luxuriousness of yellow and rose gold to create fantastically versatile statement pieces. From necklaces to bracelets, to inspiring diamond engagement rings, this trend is as hot as a roaring fire.
Twisted bands
Get a little twisted! When it comes to rings, a fresh new take on a regular band is the twisted band. Two, three, or more bands curled and braided together into one enchanting ring offers loads of style and an architectural feel to a traditional piece of jewelry. This trend is hot for simple bands as well as ornate rings with stones, and creates absolutely exquisite diamond engagement rings.
Antique beading
Borrowing for the past, what is old is new and lovely once again. Beading adds romance and charm to the bands and mountings of a variety of pieces this fall and winter. Beading accents a diamond beautifully, showing it off while not overwhelming the stone. The great benefit to this trend is that a beaded piece of jewelry can be economical along with offering cutting edge style to your fall and winter looks.
Statement earrings
While nothing surpasses a stunning ring, earrings offer a polishing touch to any outfit. Complement a new outfit, or update last year's look, with large disks, square hoops, or sparkling chandelier earrings. When it comes to the trends for fall, size matters!
Halo moves into pendants
We have been enchanted for the past couple of years by diamond rings with a circle, or "halo," of diamonds around the main stone. Crafty designers have taken that look and re-created it in an ultra sophisticated pendant. Single or double halos add radiance to a necklace, and serves up a big side benefit of providing a bigger statement without breaking the budget. Pair a halo pendant with a turtleneck or vibrant sweater for an extra dose of style and elegance.
Layered necklaces
Sometimes one just isn't enough! We are talking necklaces and chains, and this fall, the more, the better. Why not start with a short thin chain with a small pendant, and add a couple of longer chains into the mix? The end result is a stunning statement of fashionable style.
And what better way to layer your necklaces than by adding an inspiring…
Chain-linked chain
Stones are great, but metal necklaces as a chain link are sizzling hot for fall. Modern and edgy, this trend adds an urban tone to your wardrobe. A chunky chain linked necklace can be any length, and looks great worn alone or piled on with a few other necklaces. From chokers to 30 inches, this trend is hip and classic at the same time.
Speaking of sophisticated and edgy…
Black jewelry
Fall is about warm, comforting colors, black jewelry livens up every outfit from day to night. The most glamorous of all the colors, black is hot for autumn and beyond, in many forms. From delicately beaded dangle earrings, to sparkling onyx and diamond pendants, to sleek Tungsten bands, there should be at least one piece of black jewelry in your fall wardrobe.
Floral designs
On the flip side of black, flowers are weaving their ways from the garden to the stylish lady's neck, fingers, and wrists this fall. The epitome of romance, a diamond necklace accented in a floral filigreed mounting lends a whimsical, playful note that strikes a chord with many fashionistas throughout the autumn months.
Take these hot fall jewelry trends to heart on your next shopping excursion, and wear them to look stylish and sophisticated from fall, into the new year!
Need help choosing which trends look best on you? Visit Janvier Jewelers and work with an experienced jewelry associate to decide on the perfect piece to suit your style and budget. We have been on top of the hot trends since 1975.