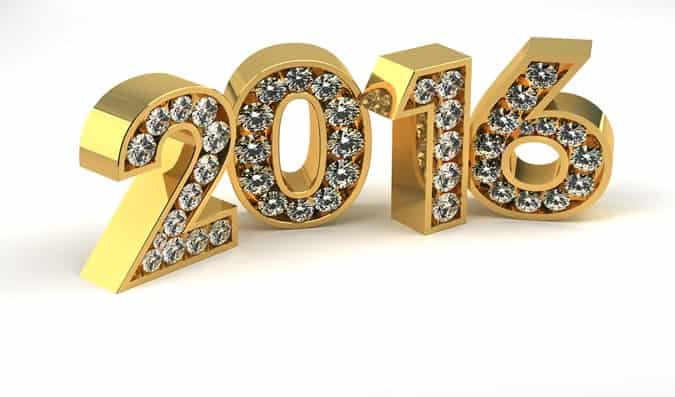 It's a new year, with fresh ideas and interesting opportunities. As with fashion, what's hot and what's as cold as winter in Delaware changes with the seasons. If you are thinking about updating your look, go beyond new boots and delve into the year's most exciting jewelry trends. Here are eight can't miss jewelry trends for 2016 that will brighten up your look and get you ready to meet the new year head on!
#1: Gold is glamorous. Few metals have the allure of both romance and sophistication like gold. It's strong, especially when mixed with other alloys (the lower the Karat, the less pure, and stronger it is). It's versatile, and can be purchased in yellow, white, or the gorgeously resplendent rose. It's also flexible, as it can be used in dainty chains or heavy, bold bracelets and earrings. Add class to any style by donning a little gold to finish out your look.
#2: Crystals are captivating. Stunning with their many facets that dazzle the eye, crystals are a wonderful way to add pizzazz to a ring or necklace, without the hefty price tag of their fancy distant relative, the diamond. Load crystal bracelets on your arm, or choose a pair of dangling crystal earrings for a bit of luxurious sparkle this year.
#3: Fringe is fantastic. Fringe has been titillating us for a while in purses, boots, and shirts. Now it's front and center in this year's smoking jewelry trends. Classic pendants with added fringe adds a fresh perspective of up-to-the-minute style and sophistication. Fringe earrings offer a unique statement that sets off both casual and dressy outfits. Fringe is made with both stones and metals, and all of it is gorgeously remarkable.
#4: Structure is stunning. Flowy is fun, but structure is the trend heating up 2016. Dramatic and daring, jewelry made from metals crafted in sharp angles, interesting points, and interlocking, oversized circles are gracing the runways and flying out of stores. Liven up your jewelry box with a boldly designed square bracelet, or a sculpted metal necklace.
#5: Tribal is triumphant. Consumers have long been fascinated by tribal looks, and this year the hot style is tribal mixed with modern. Interesting turquoise mixed with coral, and intricate beading along with etched metal offers a look both modern and timeless. Purchase a cool bracelet and wear it with other bracelets in your collection, or choose a provocative tribal necklace and pair it with a vintage blouse. Tribal jewelry offers one of the more uniquely fashion forward looks this year.
#6: Industrial is innovative. Perhaps the recent obsession with zombies and apocalyptic television shows and movies have created this provocative trend for 2016. Jewelry in bold, stark, fashion forward shapes with thick chain links, heavy metals, and darker stones add elements of mystery and danger to anyone wearing it. A choker made out of links is a simple yet powerful statement of style and drama. Paired with a fitted black shirt and pair of jeans, this necklace transforms plain into stylish and modern.
#7: Collar bones are charismatic. This trend dives into the length of neck adornment. Not really a choker, and not really a long necklace, these pieces of jewelry lay at a lady's collar bone. One of the most flattering trends for everyone, as a female's collar bone is usually a dainty, feminine space, this trend is complimentary, wide open and gaining even more steam. Choose a statement necklace in this charming length, and you will get tons of wear out of it this year.
#8: Blues are brilliant. The color of the sky and sea is also the provocative go to for this year's jewelry. Pantone recently announced that serenity blue is one of their color choices for 2016. This romantic yet sophisticated hue will liven up many different looks from day time to night. Fantastic choices to add some of this shade of blue to your wardrobe are aquamarine stones, as well as light sapphires. Create a look that is your own with a blue pendant, or sophisticated aquamarine ring set in splendid rose gold.
Use these tips to energize your current jewelry and create a sublime look that is all yours. Whether simple or bold, dramatic or understated, this year's hot jewelry trends have something you are bound to love!
Visit Janvier Jewelers today for a look at the vibrant new jewelry trends of 2016. Let our experienced sales professionals assist you in finding the perfect purchase for your style and budget. Give us a call at (302) 366-7448  or fill out our contact form!